Diplomatic tensions over calls for a separate homeland for Sikhs in India have escalated, after Canada said it was looking at "credible allegations potentially linking" the Indian state to the murder of a separatist leader in British Columbia of Canada, reports BBC.
India has denied the allegations, describing them as "absurd".
For anyone new to this long-running controversy, here‍‍`s an at-a-glance look at the history and current context:
Who are Sikhs and where do they live?
Sikhism is one of the world‍‍`s major religions, founded in the 16th Century in the Punjab region of what is now India and Pakistan - which was divided between the two countries after the end of British rule in 1947.
There are around 25 million Sikhs worldwide, making it the fifth largest faith group.
The vast majority live in India, where they make up around 2% of the country‍‍`s 1.4bn people. But significant diaspora populations exist as well.
Canada is home to the largest population outside India, with around 780,000 Sikh people - more than 2% of the country‍‍`s population - while both the US and UK are home to around 500,000 and Australia around 200,000.
Why are some Sikhs calling for a separate nation?
The Khalistan movement calls for an independent homeland for Sikhs in India.
The movement was at its peak in the 1980s in the Indian state of Punjab, when the area experienced a series of violent attacks and thousands of deaths.
It lost steam after Indian armed forces ran special operations against the movement.
Politics in modern Punjab have shifted away from the movement and calls for independence are not a majority position, according to Prof Shruti Kapila from the University of Cambridge.
But supporters in the Sikh diaspora have continued to advocate for a separate state, with calls for independence intensifying in recent years.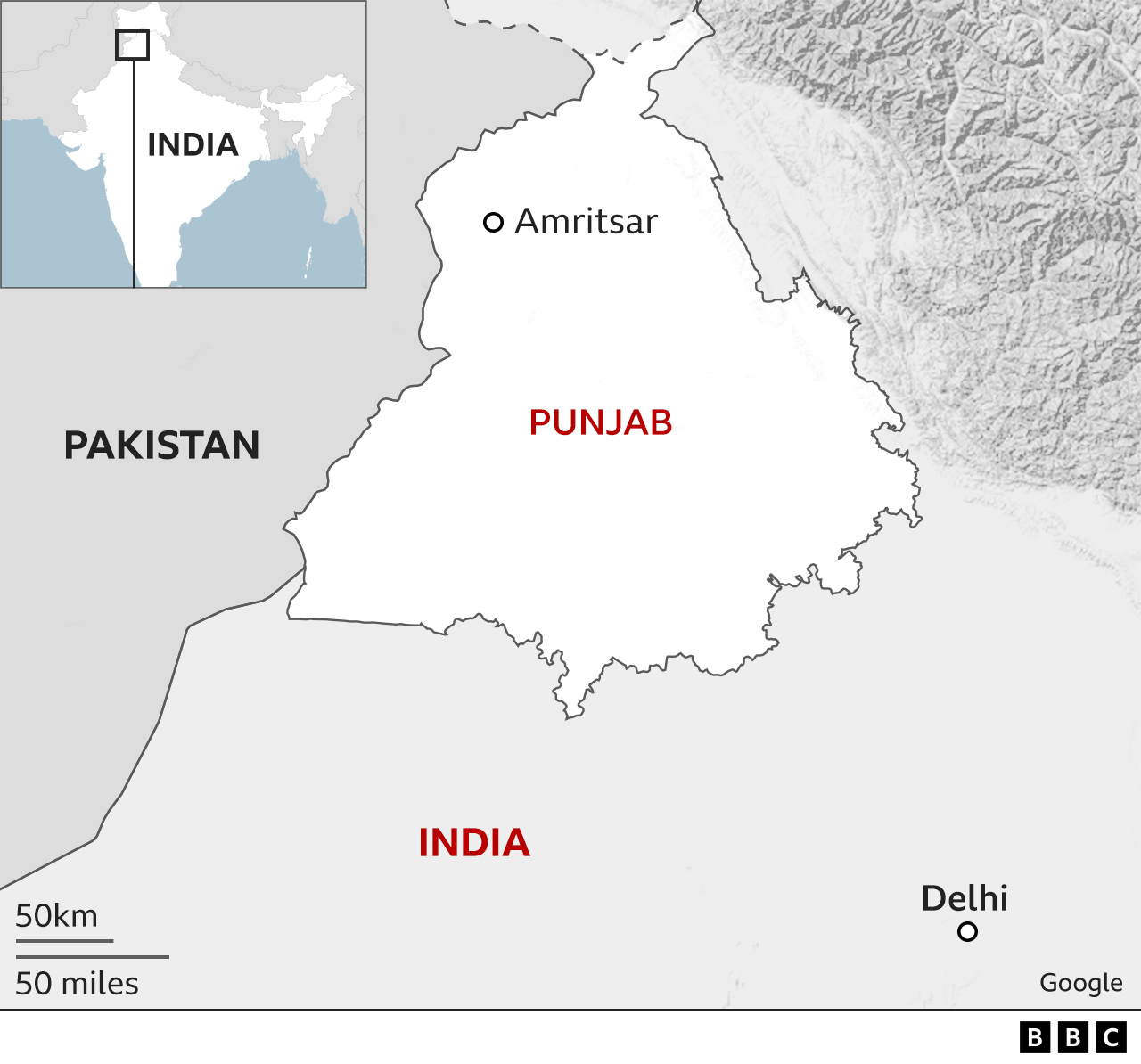 Why is Khalistan so sensitive for the Indian government?
India has strongly opposed the Khalistan movement. All mainstream political parties, including in Punjab, have denounced violence and separatism.
The long-running tensions were the cause of two of the most controversial incidents in modern Indian history - the storming of the Golden Temple and the assassination of Indira Gandhi.
In June 1984, the Indian military stormed the holiest site for Sikhs and flushed out militant separatists sheltering in the temple complex in the city of Amritsar.
The assault, which resulted in many deaths and significant damage to the Golden Temple, had been ordered by then Prime Minister Indira Gandhi.
A few months after the operation, Gandhi was killed by two of her Sikh bodyguards, which led to four days of rioting and communal violence.
Thousands of people were killed, most of whom were Sikhs. Estimates range from around 3,000 dead to as many as 17,000.
Khalistan is a red line for India because the scars of the violence in the 1980s are still fresh.
All political parties in India are united in their opposition to Sikh independence, so no Indian government can afford to overlook the Khalistan issue in the interest of bilateral diplomatic relations.
Who was Hardeep Singh Nijjar?
Hardeep Singh Nijjar was a Canadian citizen shot dead outside a Sikh temple on 18 June in Canada, at the age of 45.
He was born in Bharsinghpur village in Punjab‍‍`s Jalandhar, and moved to Canada in 1997.
First he worked as a plumber, and later became a prominent Sikh leader in the western Canadian province of British Columbia.
India designated him a terrorist in 2020, for his alleged links to Khalistan Tiger Force - a group campaigning for independent Khalistan in the Punjab region of India.
His supporters called these accusations "unfounded" and said that he had been the target of threats in the past because of his activism.
Reports in the Indian media say he was working on organising an unofficial referendum in India for an independent Sikh state at the time of his death.
Mr Nijjar is the third prominent Sikh figure to have died unexpectedly in recent months.
How does India put pressure on diaspora Sikhs?
The backdrop to the diplomatic tensions is the growing pressure India has put on governments of three countries with sizeable Sikh populations: Canada, Australia and the UK.
India‍‍`s government has openly said that a failure to tackle what it calls "Sikh extremism" would be an obstacle to good relations.
Australian officials said they would look into vandalism of Hindu temples by pro-Khalistan activists, but would not stop Australian Sikhs expressing their views on an independent homeland.
Canada has come in for Delhi‍‍`s most open criticism for what it sees as a failure to oppose the pro-Khalistan movement there. While PM Justin Trudeau has said he will stop the ongoing violence, he has also pushed back against "foreign interference".
In the UK context, a row kicked off in March after protests outside the Indian High Commission in London, which saw crowds wave yellow "Khalistan" banners and a man detach the Indian flag from the first-floor balcony of the building.