Pro Vice-Chancellor Professor A.S.M. Maksud Kamal has been appointed as the 29th Vice-Chancellor of University of Dhaka. Chancellor of the University and President Md. Sahabuddin appointed him. The Ministry of Education issued a notification in this regard on Sunday.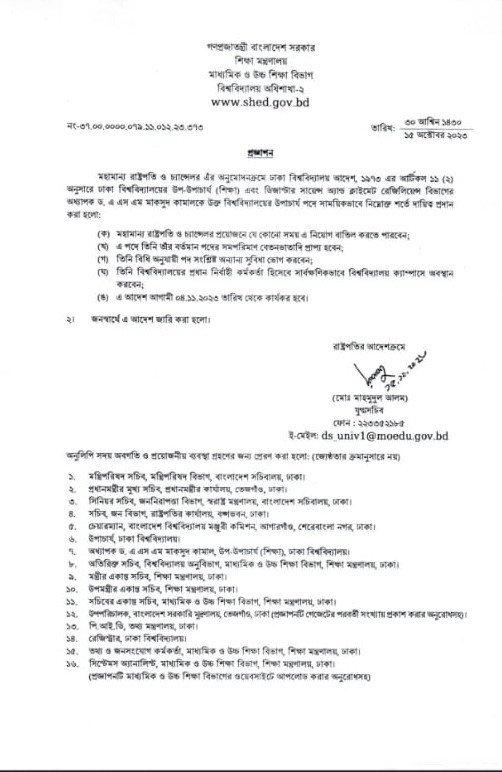 He joined the Department of Geology of University of Dhaka as a lecturer in 2000. Prior to this, he worked as a scientific officer of Bangladesh Space Research and Remote Sensing Organization (SPARSO) for six years and as a research fellow and researcher at Dhaka University Bose Center. He was appointed as a professor in 2010. In 2012, he was appointed the founding chairman of the Department of Disaster Science and Management under the Faculty of Earth and Environmental Sciences and served as chairman till 2017.
Prof. Maksud Kamal passed B.Sc (Hons) in 1st class and M.Sc from Geology Department of University of Dhaka. Subsequently, he received a Master‍‍`s degree in Applied Engineering Geology from the International Institute for Geo-Information Science and Earth Observation (ITC), a famous space science institution at the University of Twente in the Netherlands, and a Doctor of Engineering degree in 2004 in Earthquake Engineering from Tokyo Institute of Technology, Japan. He has published 65 scientific articles in domestic and foreign journals.
Maksud Kamal is four-time elected President of Dhaka University Teachers Association. He was also the convenor of the pro Awami League Blue panel-supporting teachers‍‍` organization of the university. He was the President of Bangladesh University Teachers Association Federation as well as Senate and Syndicate member of University of Dhaka. This professor was also the provost of Masterda Surjasen Hall of Dhaka University for two terms.
Prof. Maksud is one of the expert members of ruling Awami League‍‍`s International Affairs sub-committee.